Take a look at the medical technology we work with.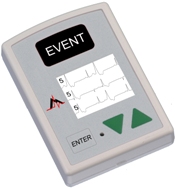 The DR200/HE by Northeast Monitoring is the industry's first combination event plus 14-day Holter recorder. It can be deployed to a patient in either Event or Holter mode. In Holter mode with a single, fully charged AA battery and a 1GigaByte data card, the unit can operate as a 14-day Holter. When the DR200/HE is combined with Holter LX Analysis and LX Event software, you have the flexibility to use your capital equipment in the most efficient manner and you've increased the probability of capturing elusive cardiac events. It is the best solution for your practice and the best solution for your patient, which is another good combination!
New advanced DSP hardware and specially designed signal processing algorithms squeeze every milli-watt out of the battery to establish a new price-performance benchmark in ambulatory cardiac monitors.
When deployed as a Holter, the DR200/HE has either 3-, 5- or 7-lead cables. When deployed as a Tel-a-heart Event monitor, it uses a 2- or 3-lead cable.
Schedule a meeting today!
Book a meeting today to speak with one of our representatives directly!